Welcome to Wedding Land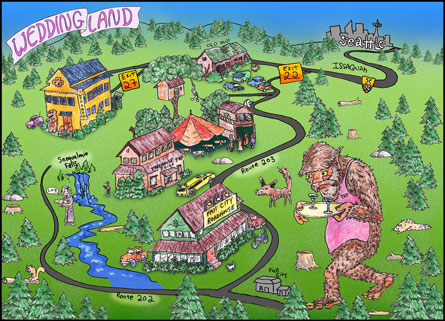 Print This Map!
wedding map
- PDF file with directions to all events. (4 MB)
wedding land poster
- big JPG for easy viewing.
Lodging
Good Advice
There's a wide range of lodging options in Snoqualmie Valley. From high end places like the Salish Lodge, to inexpensive and funky (North Bend Motel). If you're looking for convenience and consistency head for Issaquah. Staying in Seattle proper is a fine option. The wedding location is only 40 minutes away from downtown.
fall city inn
- a nice place to stay (5 minutes away).
salish lodge
- super duper (10 minutes).
north bend motel
- cheap (10 minutes).
roaring river
- nice B&B (10 minutes).
river inn
- another B&B (10 minutes).
fall city campground
- tent time (5 minutes).
hilton garden
- corporate perfection (10 minutes).
ace hotel
- hipsters rock in seattle (35 minutes).
hotel max
- swanky in seattle (37 minutes).
house in the trees
- B&B (10 minutes).
willows lodge
- expensive (23 minutes).
the old hen
- B&B looks good (15 minutes).
Dress
Here's how to dress at our wedding. It might rain, it might drizzle, it might mist... It will very certainly be chilly as evening approaches. Bring layers. Even in August it's cold at night in the NW.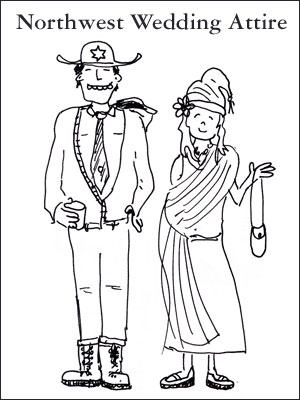 Press Release
FROM NEAR & AFAR
World Travelers Discover New Wedding Venues Steeped in Snoqualmie Valley History
Kim Dodd and Peter Mitchell are announcing plans for a creative wedding on August 29, 2009. The event will bring world culture elements to three brand new venues that have become available in the last year; Treehouse Point, Fall City Inn, and Woodman Lodge. The couple looks forward to sharing their passion for travel and the natural beauty of the Northwest with wedding guests.
A trio of Snoqualmie Valley venues present exciting new options for unforgettable Northwest celebrations. Treehouse Point is the inspired creation of Pete Nelson, world renowned treehouse builder and author. Bordered by the Raging River, this forested expanse features lovingly crafted treehouses, a central lodge, landscaped fields, water features, and fire circles - all linked by lighted nature trails. Treehouse Point became available for events in December 2008 and will be the location for the Dodd Mitchell ceremony and reception. The Fall City Inn opened in March 2009. This historic roadhouse was built in 1916 and was refurbished after many years of disrepair. The seven room Inn is booked for east coast wedding guests. The rehearsal dinner will be held at Woodman Lodge, also recently opened after extensive renovations. Built in 1902, the lodge was originally a fraternal organization for forest workers. Today it brings a stylish new fine dining option to the town of Snoqualmie.
North Seattle couple Kim Dodd and Peter Mitchell are spirited world travelers and collectors of folk art. In 2007 they became engaged in the thin air of a high Himalayan pass while trekking in Bhutan. Last Summer, the couple ventured to South India to purchase yards of silk with which to drape their celebration in vivid color. Other decorations from Mexico, China and Thailand will complete the international theme. Food, flowers and other services will be provisioned locally in an effort to support the Snoqualmie Valley economy.
Issaquah native Kim Dodd manages Artech Fine Art Framing in downtown Seattle. She is also an accomplished glass artist. Guest will be treated to hand made glass art gifts. Peter Mitchell is a multimedia artist and musician drawn to the Northwest during the grunge era. He has designed the website, invitation and supporting elements for the event (and will rock a few numbers with the band at the reception).
Comment Archive